"Open Yo EYE$"
$oundcloud
Reverbnation
Listen To My Mix Of Different Songs On ReverbNation, If You Enjoyed It Just Share, & Help Me Rank #1 Worldwide.
Shawn Kombat
Website based off of the brand and the Artistry Of Shawn Kombat and Many Others, Following His Social Media and Buying Albums as well as merchandise can further your relationship. As a supporter and more, One For All $tndUPhckALL.
Powered by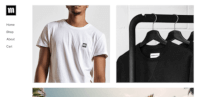 Create your own unique website with customizable templates.